At 22, Cynthia Tang was one-third the average age of the other people crowded into the abandoned Taipei storefront that served as the office of the Daguan Anti-Eviction Movement.
Looking fervently through the frames of her large round glasses, Tang, a student at the prestigious National Taiwan University, addressed the small crowd. "Two of our student activists have been arrested," she said. "Now the government is suing them. This is not only their problem – this is everyone's problem."
Her audience was made up of retirees and low- to middle-income workers who lived in Daguan, a small "military dependents' village", which has been swallowed by the sprawling municipality of New Taipei City. With intense pressure on space in Taiwan's capital, such villages' ambiguous legal status means their future is precarious.
For two years Tang worked with Daguan residents on a plan to fight their eviction. They lost, and the village is due to be demolished this week.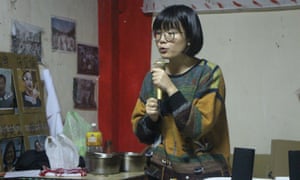 Daguan was built during the dash to provide housing for about 2 million people who fled mainland China for the island of Taiwan in the wake of the Chinese civil war.
After defeat by the communist army of Mao Zedong, the soldiers, supporters and families of the nationalist Kuomintang (KMT) needed shelter. At first they "slept in schools, temples, military camps, and even on the streets", according to Dong Junren, who works with Taiwan's culture ministry.
Then the military dependents' villages were built. They were meant to be temporary shelter for KMT supporters until they could successfully regroup and launch an invasion to retake the mainland.
The invasion never happened and the hastily built villages – mostly boxy one or two-storey concrete houses such as those in Daguan – became a mainstay of Taiwan's landscape.
"Many influential filmmakers, writers and artists grew up in a military dependents' village," says Brian Hioe, editor of the Taiwanese-American culture and politics magazine New Bloom. "They have considerable cultural significance to Taiwan." Foxconn's CEO, Terry Gou, singer Teresa Teng, and The Assassin director Hou Hsiao-Hsien all grew up in military dependents' villages.
At the same time, informal settlements sprang up around the country to provide housing for less fortunate new arrivals and the native Taiwanese who were either displaced in the political turmoil or had moved to cities to find work. Though it is hard to know exactly how many settlements there were, Junren believes they once numbered in the thousands.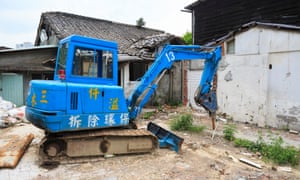 The distinction between informal settlements and the formally recognised military dependents' villages was never very clear, though, and the conflict over Daguan was a product of this problem.
Dismantling the villages
Sixty-two-year-old Daguan resident Xu Ping fled to Taiwan from mainland China in the early 1990s after she became pregnant for a second time. "I didn't want to have an abortion and didn't think I could hide the child and raise her without an official state ID," said Xu. So she chose Taiwan at the insistence of her husband, a former KMT fighter who had returned to the mainland after a stay in Taiwan.
When she arrived in New Taipei City, Xu Ping bought a home in Daguan, unaware that the village would one day have an ambiguous legal status.
"Growing up we never thought the government would treat us badly," said Zhou Xiangping, another Daguan resident. "When I was a child veterans had high status, and Daguan with its market stood at the centre of three veterans' villages."
During the 1990s, Taiwan's government sought to modernise veterans' living quarters and address the issue of informal housing. The 1996 Act for Rebuilding Old Quarters for Military Dependents allowed for the gradual dismantling of the villages, with residents typically compensated with either the ability to buy their homes at a huge discount, a room in a newly built apartment or cash.
Today, fewer than 30 of the original 879 military dependents' villages remain across the island.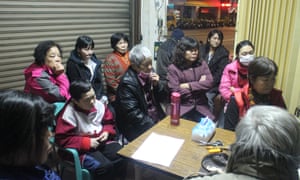 Legally, the land on which the military dependents' villages were built is public land – and when redeveloped, their new use is supposed to benefit the public. Often, high-rises have been built to replace the old, decrepit housing, with priority given to former residents. At other times, villages have been demolished to make way for shopping malls.
A number of former military dependents' villages have also been turned into tourist sites, such as 44 South Village, Rainbow, Penghu and Hsinchu. Many feature museums that tell the stories of the new arrivals in Taiwan and their dreams of returning to a democratic China.
Informal settlements have been treated more harshly, and many were cleared without compensation. Huge protests took place in 1992 when the police and army cleared 12,000 residents from informal settlements in downtown Taipei to make way for the Da'an Forest Park, now a shady oasis in the city likened to Central Park in New York or Hyde Park in London. The protests are often cited as an inspiration by young housing activists.
More recently, in 2013, Huaguang, an informal settlement in central Taipei that contained military dependents, was cleared in the face of similar protests.
Daguan's troubles started in 2014 when its residents faced – and lost – a court battle for ownership of their homes. Two years later, the government declared the village an illegal occupation, slapping its residents with eviction notices and up to £5,000 in fines, while the Veterans Affairs Council started plans to expand a neighbouring veterans care centre into Daguan.
More than half of Daguan's households left at that point, but 21 chose to remain. Joined by radical students, the residents fought the government both in court and in street protests, which included violent clashes with police.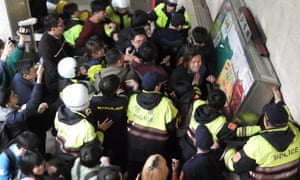 The students see Daguan as an example of injustice. "The controversial issue in Daguan is whether people without property rights have the right to stay put," said Jinn-Yuh Hsu, a professor of geography at National Taiwan University.
In March, the government ordered that demolition to start in two weeks. In response, about 35 students and a handful of older residents rushed through the doors of the Veterans' Affairs Council, chanting and holding signs.
A team of protesters spray-painted "oppose eviction", "stop the cranes" and "protect Daguan" in large red letters on the marble walls. The police moved in, grabbing leaders including Tang and Zhou.
A few days later, the Veterans Affairs Council held a press conference, where it reiterated its view that Daguan residents "have illegally occupied the land for over 50 years and therefore do not have the legitimacy to ask the government for compensation".
Under heavy pressure, the remaining residents signed an agreement to vacate in three months, finally ending a three-year standoff.
The village is due to be demolished this week. "How can you erase 60 years of history just because you don't have a piece of paper proving it's yours?" asked Zhou.
Follow Guardian Cities on Twitter, Facebook and Instagram to join the discussion, catch up on our best stories or sign up for our weekly newsletter