Erasmo Alves Teófilo is a disabled Amazonian activist from Brazil whose life has been filled with a nearly daily procession of murders, death threats, assassination attempts and warnings.
Lately, two of his associates and a neighbour have been killed and an employee of land grabbers fired shots outside his home – an isolated wooden shack in the hills of Anapu – while he sheltered inside with his father. After police eventually arrived, there was an exchange of gunfire and the would-be assassin was shot.
"I believe he would have shot me," Teófilo recalls in a shaking voice. "But I think I must continue my work, however difficult and dangerous it may be."
Teófilo refuses to run and he does not walk. Afflicted with polio, he has been disabled since childhood. Because the Amazonian terrain is too rough for a wheelchair, he bumps his way from protest meetings to government offices to court rooms on a white plastic chair.
Despite these obstacles, considerable personal risks and only basic formal training, the 31-year-old has proved a formidable legal advocate for close to 300 people whose lives have been disrupted by the Belo Monte hydroelectric dam. Most come from fishing and farming communities in the Volta Grande – the great bend of the Xingu River – where water levels and fish stocks have dropped precipitously as a result of the vast concrete barrier upstream, where the turbines came into full operation last month.
Teófilo has petitioned the authorities to allow these families to be resettled in two areas of land that were illegally deforested for cattle grazing. By doing this, the passionate environmentalist hopes to achieve two goals: justice for the dispossessed and a degree of reforestation because the communities he wants to help are smallholders who want to plant fruit trees on the pastures.
Raised in a similar background, he feels it is his duty to support others in need. For him, the social and environmental issues are intertwined in the issue of land. This is why he has previously denounced loggers and joined protests against hydroelectric dams. It is also why he has put himself in the frontline of the battle for territory.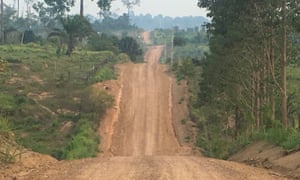 "If we don't occupy these lands, they'll be destroyed … We've invested our life in this project. We feel this is paradise and we don't want to leave. Without land, we cannot fight. Our objective is a life with nature, not to destroy it like ranchers or miners and dam builders," he said during an interview in his home. "I have worked in the environmental battle for a long time. This is the most important battle and we are the point of the spear for everyone else."
He has won court verdicts and official approval for the transfer of two lots of land. But this has made him dangerous enemies among the big land-grabbing families who dominate politics in this region and are suspected of ordering assassinations of opponents, including the American nun, land activist and forest campaigner Dorothy Stang in 2005.
These criminal farmers have been emboldened in recent years as the influence of rural interests have increased in Congress and the government. The presidency of Jair Bolsonaro has taken this to a new level – leading to accelerated land seizures, forest clearance and violence over the past 12 months.
Anapu – a small, notoriously violent town on the Transamazonian highway – has seen an explosion of killings. On 4 December, assassins cut the throat of Márcio Rodrigues dos Reis. He was due to testify as chief defence witness in a case involving Stang's successor Father Amaro Lopes. A knife in the neck is intended to send a sign that the victim talked too much. Five days later, a local councillor, Paulo Anacleto, was executed in front of his young son in the central square of the city. He had reportedly threatened to reveal the syndicate involved in the earlier murder. Teófilo says he too has a price on his head.
He blames the tension on one farming family. "They are really killing," he says. "They need to dominate the municipality to have political power."
The federal prosecutor's office has acknowledged a "new escalation of violence" and requested the police take action to curb the attacks and intimidation of residents and leaders of the campaign to secure plots 96 and 97 – the two areas that Erasmo is working on.
In private, however, judicial officials said they felt frustrated and impotent. Anapu and neighbouring Altamira have a small police force relative to the vast territory they must cover. Many officers are corrupt. The national land registry is also split between career officials, who recognise the environmental, social and legal necessity to give land to the poor, and senior political appointees, who ensure their wealthy supporters are granted ownership.
Sadi Machado, the state prosecutor in Altamira, said the state was "actively unwilling" to redistribute land as it was obliged to do under the law. "This causes conflict, produces casualties and destroys the environment … The situation has deteriorated this year."
Making matters worse, the Bolsonaro government is trying to legitimise land taken illegally. A provisional decree – known at Bill 910 – comes into law if not blocked by congress within 120 days. It is an incentive for land-grabbers to seize what they can now in the expectation that their actions will be retroactively approved. Those who have been ordered to transfer land are using violence and legal delays to wait for the new law, which they believe will help them keep control.
Despite the huge economic and political forces twisting the authorities against him, Teófilo says he still believes in the law. But he is torn between protecting his own life and fighting for the interests of the poor families he represents.
"I know I'm not much, but there is nobody doing what I do. Not in this situation we are in," he says. "If I leave, I'm sure the result won't be good for these families. They will once again have been humiliated if the farmer takes back the land."